1. Function
SaveDongle is a USB dongle which can backup games saver of original 3DS/NDSI/NDSL game cart to PC. It also allows restoring the PC backup games saver back to original 3DS/NDSI/NDSL game cart.
2. Installation and Execution:
2.1  USB Driver installation.



2.2  Run Execution program


2.3 Plug the game cart into SaveDongle,Connect SaveDongle to PC USB port. If game cart detected, "Cart inserted!" message will be display.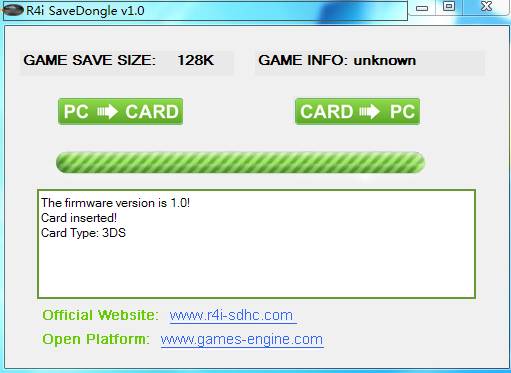 2.4 Select for backup game saver to PC(saved as .sav file),orfor restore backup game saver(.sav file) from PC to game cart.
Note:  Don't run other programs when you bakcup/restore game save,  it maybe cause errors.
For any inquiry, please contact us by email : info@r4i-sdhc.com